2017 SRGC Highlights
The 2017 Southern Regional Grant Conference #SRGC17, hosted by GGPA was held on June 15 and 16 at the Morrow Center in Morrow, GA.  Attendees gained insight and perspective about key issues facing the grant field, built and strengthened professional relationships, and discovered new resources and grant opportunities. The event boasted a panel of foundation program officers and grant makers, nearly 30 workshops from thought leaders, social outings, and a keynote address by Cassie Young, The Bert Show on air personality.
2015 SRGC Highlights
The 2015 Southern Regional Grant Conference, hosted by the GGPA was held Thursday May 7 and Friday May 8 at the Sheraton Suites Galleria Atlanta. The attendees learned about key issues in the grant field. Built professional relationships. Learned about job, project possibilities and other new resources. Gained insight and perspective on grants and choose from multiple concurrent work sessions. Our Keynote speaker was Kate Atwood – Founder, Kate's Club and Executive Director, Arby's Foundation.
Click here to download the 2015 Regional Resource Guide

2014 SRGC Highlights
The GGPA held its 2nd Annual Southern Regional Grant Conference (SRGC) on April 10 and 11 at the Sheraton Suites Galleria in Atlanta, GA. This year's theme was "Funding with a Purpose," and the conference offered two full days of specialized training and informational opportunities geared toward grant professionals from novices to experts including government, healthcare, education, non-profits, and consultants. Download the conference guides below to see agendas, speaker bios, sponsors and more.
2014 Regional Resource Guide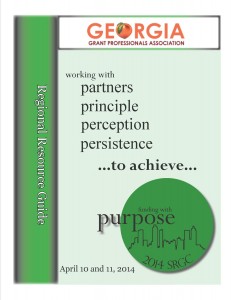 Click here to down the 2014 Regional Resource Guide

The GGPA's 1st Southern Regional Grant Conference was held on May 2 and 3 at the Loudermilk Center in Atlanta, GA. The 2013 theme was "Hi Y'all: Welcoming a Refreshing Look at What you Think you Already Know!"