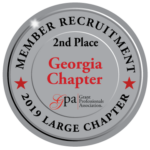 Welcome! The Georgia Grant Professionals Association (GGPA) is a membership organization serving the needs of grant professionals in the state of Georgia. The GGPA chapter meets every month to network, learn from other grant professionals, participate in professional development opportunities, practice grantsmanship, grow the profession, and assist others in serving the greater common good through grant writing.
Monthly Meetings
Regular GGPA meetings typically take place on the 4th Tuesday of the month from 10:00 AM to 11:30 AM.
Details
GrantZone – Want to connect with colleagues nationwide?
Connect with us at the GrantZone. The GrantZone is the online community for members of GPA. It is your connection to an incredible resource – over 2,000 of your colleagues who share your challenges and successes. It is the place where you can ask advice, share your experiences (and resources) and build relationships from the convenience of your computer or mobile device. The best part – You can access the community and all of its collective knowledge 24/7. We encourage you to login to GrantZone.
Note: Your email address and password are the same you use for the GPA website.