Southern Regional Grant Conference 2018 (SRGC18)
Morrow Center: April 17-19, 2018
Southern Regional  Grant Conference (April 18 – 19, 2018)
This 2-day conference (April 18-19, 2018) will feature excellent speakers, workshops led by industry professionals and numerous opportunities to network with peers. Take advantage of the Early Bird Pricing – $199 now through February 14, 2018. Regular pricing goes into effect February 15, 2018 – $250 for GPA members and $275 for non-GPA members. Online registration ends April 10, 2018. Onsite registration will be available.
#SRGC Conference Schedule: Draft Schedule as of 3-22-2018
Pre-conference Workshop Session with Gail Widner (April 17, 2018 from 12-4 pm)
Join us for a special pre-conference session led by Gail Widner, Ph.D, GPC in conjuction with the 2018 Southern Regional Grant Conference. The session will feature instruction, review, and practice on writing and editing grant proposals (both government and foundation). Participants will spend time reviewing the basics of writing, proposal writing tips, and actual paragraphs from an array of proposals Gail submitted (before and after editing). Participants will gain more detailed expertise in editing proposals and strategies to appeal to funders. If you would like some feedback from Gail and your colleagues, please bring drafts or a rejected proposal with you (both the text and the directions if possible). The group will collaborate and discuss strategies to improve the likelihood of successful submissions.
The session will be held on Tuesday, April 17, 2018 from 12-4 PM at the Morrow Center. The cost is $50 and the session is limited to the first 24 paid participants. So please register early! Please note you must register SEPARATELY to participate in the pre-conference session.
Gail Widner, Ph.D., GPC, has worked on more than 450 proposals, garnering nearly $1 billion to advance public K-16 education. She works as the Project Director for a Race to the Top District grant. For nine years, she managed the Grants Program for the SC Department of Education, helping agency, school, and district staff in program and proposal development. She holds a doctorate in English from the University of South Carolina Columbia; a master's degree in English from the University of Massachusetts at Amherst, and a bachelor's degree in English and history from the College of Charleston.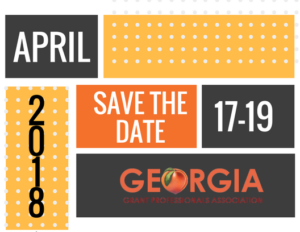 Hotel Accommodations!
Drury Inn
6520 S Lee Street
Morrow, GA 30260
770-960-0500
GGPA/SRGC18 Courtesy Room Block – Call to make reservations!
Checking in: Monday, April 16, 2018
Checking out: Friday, April 20, 2018
Guests will be responsible for all room and incidental charges.
ADA and Special Requests including upgrade inquiries will be made by individual guests and subject to availability.
Rate: $105/night
Drury Amenities: Free Parking, Fitness Center, Complimentary Breakfast, Complimentary Wifi, Indoor/outdoor pool with Hot Tub, Business Center, Pet Friendly, Laundry Facility, Microwave Refrigerator in Room, Complimentary "Kickback" (complimentary food & cocktails) from 5:30-7:00pm.
#SRGC18 hosted by the Georgia Grant Professionals Association will:
Provide an affordable, informative conference for grant professionals in the southern United States;
Allow grant professionals (non-profit, healthcare, government, education, consultants, etc.) the opportunity to further educate themselves in grant research, writing, and management through panel discussions and breakout sessions led by experienced, successful funders and grant seekers;
Offer networking for grant professionals to interact with their colleagues, identifying individuals that can be called for assistance and to answer questions long after the conference has ended; and
Bring together a variety of speakers who will provide a breadth of knowledge and expertise across all aspects of our profession.
Share the #SRGC18 with your friends and colleagues!