Southern Regional Grant Conference 2017 (SRGC17)
Morrow Center: June 15-16th; 8am-5pm
Register for the SRGC17!
The Southern Regional Grant Conference is the premier networking and professional development event for grant professionals. Gain insight and perspective about key issues facing the grant field, build and strengthen professional relationships, and discover new resources and project opportunities while demonstrating commitment to the grant profession.
The SRGC rate is $250 for Grant Professional Association members and $275 for non-members.
The SRGC Room Block at the Drury Hotel in Morrow is FULL! Scroll to the bottom of this page for a list of Overflow Hotels.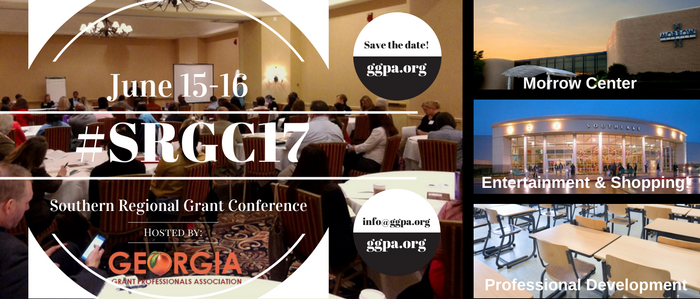 This 2-day conference will feature excellent speakers, workshops led by industry professionals and numerous opportunities to network with peers.
Online registration will end on June 8, 2017. Onsite registration will be available.
#SRGC17 hosted by the Georgia Grant Professionals Association will:
Provide an affordable, informative conference for grant professionals in the southern United States;
Allow grant professionals (non-profit, healthcare, government, education, consultants, etc.) the opportunity to further educate themselves in grant research, writing, and management through panel discussions and breakout sessions led by experienced, successful funders and grant seekers;
Offer networking for grant professionals to interact with their colleagues, identifying individuals that can be called for assistance and to answer questions long after the conference has ended; and
Bring together a variety of speakers who will provide a breadth of knowledge and expertise across all aspects of our profession.
Share the #SRGC17 with your friends and colleagues!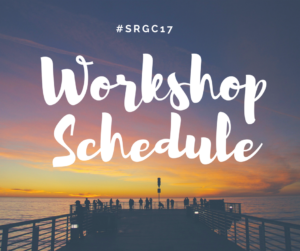 The SRGC Room Block at the Drury Hotel in Morrow is FULL!
Overflow Hotels
Hampton Inn Atlanta Southlake
0.8 miles from Morrow Center
1533 Southlake Pkwy
Morrow, GA 30260
(770) 968-8990
Country Inn & Suites By Carlson Atlanta
2.4 miles from Morrow Center
2192 Mt Zion Pkwy, Morrow, GA 30260
(770) 603-3232
Holiday Inn Hotel & Suites Stockbridge
5.2 miles from Morrow Center
638 GA-138, Stockbridge, GA 30281
(678) 782-4000
Fairfield Inn & Suites by Marriott Atlanta Stockbridge (Just opened 2017)
6.3 miles from Morrow Center
825 GA-138, Stockbridge, GA 30281
(678) 216-1200